Over the past two months, more and more carceral agencies have taken their COVID-19 data dashboards offline or reduced the amount of information they report concerning the health of the people who live and work in their prisons. Since June, we have seen four agencies — the state DOCs in Florida, Georgia, and Massachusetts, as well as the Texas Commission on Jail Standards — stop reporting (and presumably collecting) COVID-19 data altogether, while several others haven't updated their publicly reported data in over a month.
The Florida Department of Corrections stopped updating its COVID-19 data on June 2 of this year. According to the agency, there had been so few new cases that reporting the data was no longer "operationally necessary." Yet our data show that, in the month leading up to that decision, there were 149 new cases among staff and five among people incarcerated in Florida prisons. Over that same period, the agency reported three new COVID-19 deaths among people in custody. Similarly, on July 19, the Georgia Department of Corrections abruptly took down its COVID-19 tracking dashboard, despite reporting 13 new cases among staff and seven among incarcerated people since the beginning of June. As of June 15, the Massachusetts Department of Correction no longer provides weekly updates on COVID-19 inside the state's prisons, and the agency will stop providing any updates altogether after a final snapshot on August 15.
A number of other prison agencies have stopped updating the data posted on their COVID-19 dashboards. The Rhode Island DOC last reported updated data on May 20, while the New Jersey DOC hasn't posted an update since May 26. The most recent updates from prison officials in Montana and Alaska were in late June. The Mississippi DOC, an agency that has failed to regularly report updated data throughout the pandemic, has not reported updated data since July 8. It remains unclear whether these agencies will resume updating their data.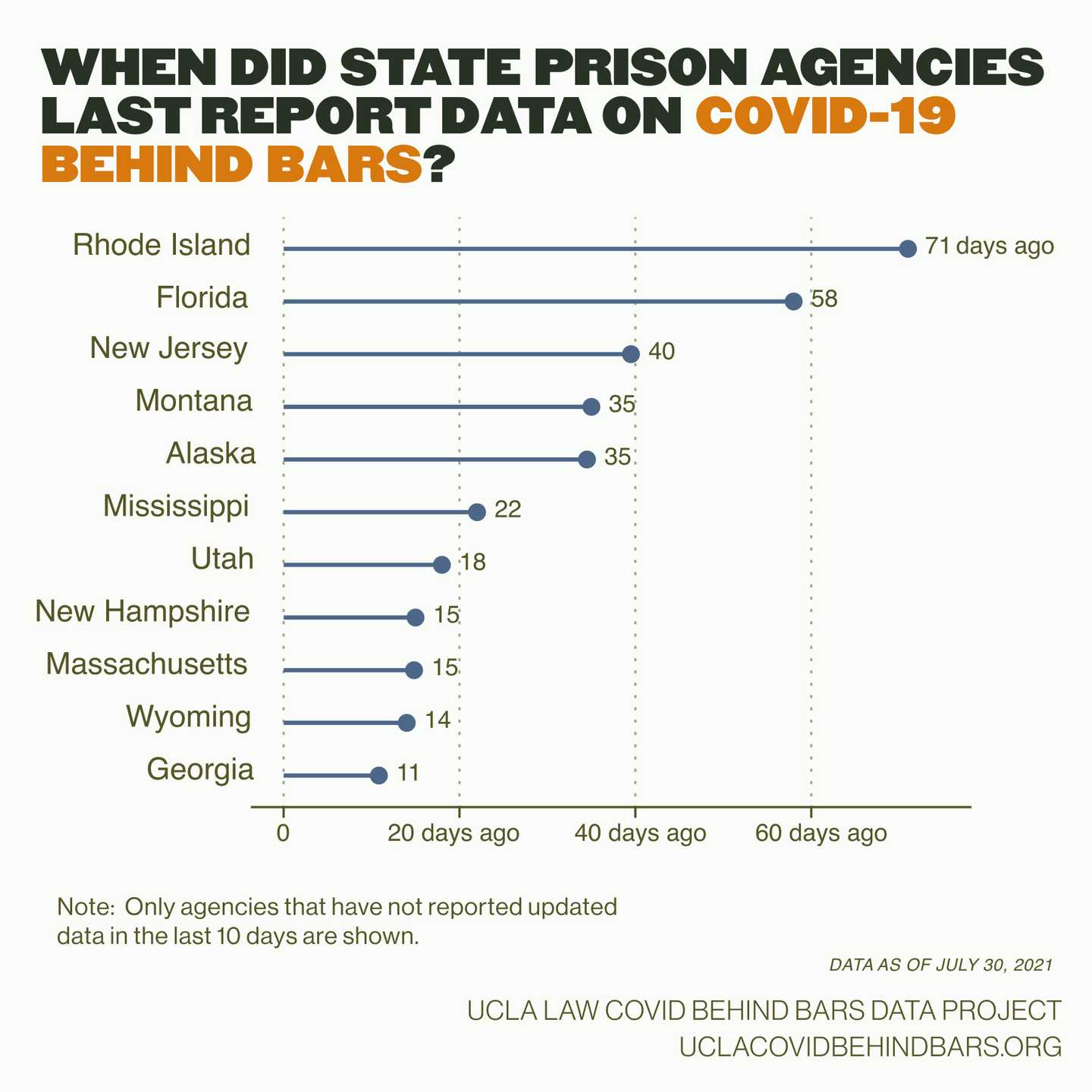 Several other agencies, while still updating some COVID-19 data on their dashboards, have suddenly started reporting less information or reporting less frequently. For example, throughout the pandemic, the Louisiana DOC had been reporting detailed information about the number of active symptomatic and asymptomatic infections inside each prison, along with the number of cumulative cases, tests administered, and deaths in custody. On July 8, the agency inexplicably stopped reporting nearly all of these data, and instead began only posting the number of active cases among incarcerated people and staff. On July 27, the Louisiana DOC announced they would be suspending visitation across the state's prisons citing the "latest surge of COVID-19 positive cases in Louisiana," making the agency's decision to roll back data transparency all the more troubling.
On the jail side, we've seen publicly reported COVID-19 data, already sparse to begin with, be reduced even further in recent months. For example, on June 13, the Texas Commission on Jail Standards, the state's jail oversight board, stopped reporting data about COVID-19 in Texas jails. When we inquired into their reasons, a representative replied, "We no longer collect that information and so we have no more of it to post on our website." This is alarming not only because the agency stopped sharing their COVID-19 information publicly, but also because the Board appears to no longer be collecting this data internally to guide its own policymaking. This decision is especially striking given that, at the time the Board stopped reporting, there were 86 active cases among incarcerated people, and 34 cases among staff in Texas jails.
We have seen time and again over the last year that it takes only a few cases to seed a large outbreak. To decide to stop reporting infections when new cases are popping up, or could pop up at any moment, is dangerous. Carceral agencies are responsible for the care of those in their custody, and, at a bare minimum, these agencies must track and report on COVID-19 cases and deaths in their facilities, regardless of the number of cases. The fact that many are no longer doing so, or are doing so less frequently, is especially concerning given that the Delta variant is circulating rapidly around the country.
In fact, we have already noted surges inside carceral facilities likely fueled by the Delta variant. Prisons in Texas and Missouri, for example, have seen a 500% increase in the number of active cases over the month of July. Given that a large portion of people in prison, especially staff, are yet to be vaccinated, and that many facility populations are over capacity, more surges in carceral facilities are increasingly likely. These outbreaks will present serious health risks not only to those living and working inside, but also to those residing in surrounding communities.
Data about COVID-19 in carceral facilities remains crucial public health information, and agencies must continue to track and report them. Given the resurgence of COVID-19 infections and deaths, now is not the time to withhold data that is required to make informed public policy choices when lives are on the line. Though we wish it were otherwise, it is far too soon for agencies to "return to normal."