Throughout the COVID pandemic, there have been a number of sustained, targeted efforts across the country – organized by incarcerated people and their families, community-based groups, nonprofits, advocates, and others – demanding safety and protection for incarcerated people against the threats posed by the virus. The primary demand of these efforts has been widespread decarceration, echoing similar calls from public health officials. 
Such organizing efforts, many of which have shaped carceral policies and politics since March 2020, constitute data that is essential to a comprehensive understanding of how carceral systems have and have not responded to the pandemic. For this reason, our team has been collecting data related to these organizing efforts since the start of the pandemic. We have been specifically focused on grassroots efforts, which have been the vanguard and majority of all organizing efforts related to COVID behind bars. While larger groups and organizations have leveraged considerable resources and provided a critical platform, the most impactful organizing has been at the grassroots level. 
In this context, we take "grassroots organizing" to refer to activism planned by, for, and with incarcerated people with the aim of addressing or improving carceral conditions threatening their health and safety as a consequence of COVID. As we define it, community organizing is a democratically governed, values-driven process that catalyzes the power of individuals to work collectively to advocate for the changes they want to see in their communities. 
To build our data set, our team has relied on social media, news media, and word of mouth. Early in the pandemic, we drew heavily from The Perilous Chronicle's list of prisoner actions, a list of efforts happening around the country since March 2020. Since The Perilous Chronicle stopped collecting data, the majority of our information has come from social media and local newspapers. Because social media has been such an effective tool for organizers to publicize their campaigns, it has also been an effective way for us, as researchers, to collect information related to those efforts. 
The tactics of the organizing efforts we have documented so far have varied dramatically in style, scale, demands, and impact. We cast a wide net when determining which efforts to track and code, excluding only those actions that were plainly unconnected to the health and safety risk posed by COVID.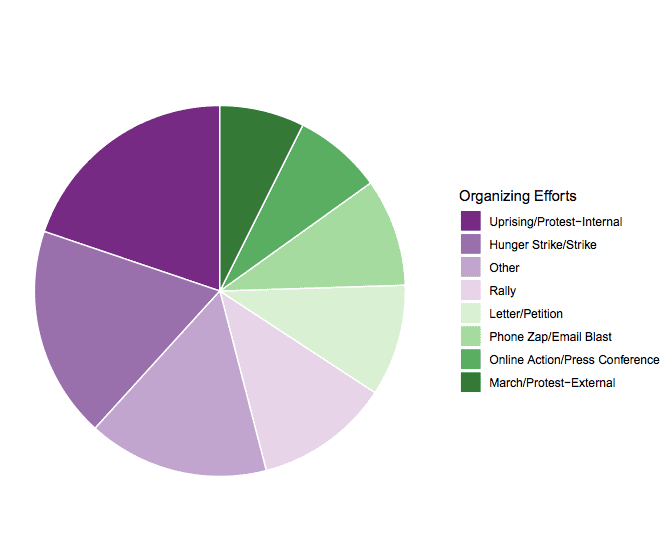 One of our goals has been to uplift and recognize those fighting for racial equity. Some of the actions we have tracked were part of the larger Black Lives Matter movement and specifically approached the crisis of the pandemic behind bars through a racial justice lens. The series of uprisings at the St. Louis City Justice Center, for example, expressly advocated for the valuing of Black lives behind bars, and forcefully conveyed the message that one way to show that Black incarcerated lives matter would be to release people immediately, increase COVID safety procedures, and provide regular testing and PPE. 
We suspect that these and other grassroots actions have influenced lawsuits and proposed policies. Over the coming months, if the pandemic subsides as expected, we will be shifting our focus to investigating the legislative and legal impacts of grassroots organizing. 
***
While those in charge of carceral and legal systems were, for the most part, caught tragically off-guard by the pandemic, advocates for incarcerated people have responded loudly and clearly, making their voices heard. During the pandemic, longstanding efforts and actions by community-based organizations to protect the health and safety of incarcerated people have taken on a renewed urgency, seeking to improve the health and safety conditions that incarcerated people face in response to the risks to health and safety posed by the pandemic. 
If our data collection efforts have inspired you to engage with organizing efforts behind bars, we invite you to to learn more at the Grassroots and Community Organizing tab or the Mutual Aid and Fundraisers tab of the UCLA Law COVID Behind Bars Project spreadsheet.
next post
August 10th, 2021 • Dylan Lee
Have a legal research question about COVID behind bars? Check out the Health Is Justice Litigation Hub, a collaboration between the UCLA Law COVID Behind Bars Data Project, Zealous, the Center for Institutional and Social Change at Columbia Law School, and the Bronx Defenders, a searchable database of court decisions and legal filings relating to the pandemic behind bars.